If you've taken a sneak peak in the mirror and been shocked at how dull your skin is looking, you're probably either in the midst of winter and lacking vitamin D, in need of some serious shut-eye, feel stressed, or have neglected exfoliation (or perhaps all four).
There are plenty of daily factors which contribute towards a lack of radiance in the skin and while there are a few ways to counteract this, including a healthy and balanced diet, there are also a few skincare tips which could leave you looking (and feeling) a little more glowy.
Today we cover why Vitamin C could be the missing piece of the (skincare) puzzle…
It's an antioxidant
You may or may not already know that the Epidermis (the outer layer of the skin) and Dermis (the inner layer) contain high levels of Vitamin C. The antioxidant is present to help keep skin healthy and support the production of natural collagen, why is why it's often included in your favourite skincare products.
Due to its antioxidant capabilities, Vitamin C can help to combat several elements, from neutralizing free radicals to reducing the numerous environmental factors which take their toll on our skin.
To name a few, these elements include pollution, excessive sun exposure and smoke, which can all contribute towards the breakdown of collagen in the skin. This can lead to a speed-up in the signs of ageing, dark spots appearing and a lack of radiance, which is where Vitamin C infused skincare products come to the rescue.
Try: Super Facialist Vitamin C+ Brighten Glow Boost Skin Serum
It's radiance boosting and has anti-pigmentation properties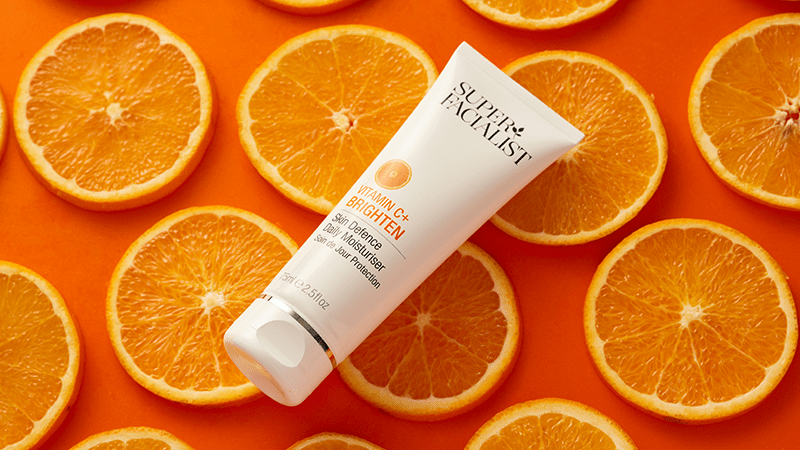 When topically-applied on a regular basis, Vitamin C can help to reduce dark spots (e.g. hyperpigmentation within the skin) which are often associated with more mature skin, in addition to boosting general radiance.
Not only does it function well on its own, it also provides a more intense brightening experience when combined with a selection of different active ingredients, including Licorice.
We've incorporated both ingredients across our Super Facialist Vitamin C+ Brighten range; included within the Micro Polish Wash, Daily Moisturiser (recommended by Grazia), Eye Cream and Night Cream, with Vitamin C featured as the key ingredient across the entire range.
It helps stimulate collagen
A healthy supply of collagen beneath the surface of the skin helps to maintain the skin's health, firmness and provide the skin with enough flexibility to maintain its soft texture and appearance.
As we get older, natural collagen production declines, so topically applying products designed to increase this is particularly beneficial for more mature skin. In addition to Hyaluronic Acid, Vitamin C is a great choice for increasing and speeding up the production of collagen within the skin.
Ready to introduce Vitamin C to your regime? Click here to shop the range.