Pores. Would you believe it if we said that the average adult is estimated to have around five million of them? Even our idols have them, despite an airbrush here or there to suggest otherwise.
In this article, we'll be diving into what pores are and how to minimise the appearance of them if this is one of your primary skin concerns.
What are pores?
Pores are tiny openings in the skin which predominantly allow hair follicles to grow, but also play an important function in allowing the skin to release sebum, oil and sweat. They are completely natural and are usually extremely difficult to see with the naked eye, unless you're looking with a magnifying glass.
Just remember – nobody is as 'up close and personal' with your pores as you are, so try not to fixate too much, but if you're looking for some advice, the following tips should help…
Why are my pores so large?
Pores can appear enlarged when they become clogged, which is often the result of having natural oily skin (and being blemish prone) or a sudden increase in sebum production, pollution, or using non-comedogenic makeup. Other factors, like sun damage and genetics, can also contribute towards the appearance of pores.
What is the best face scrub for large pores and how often should I use it?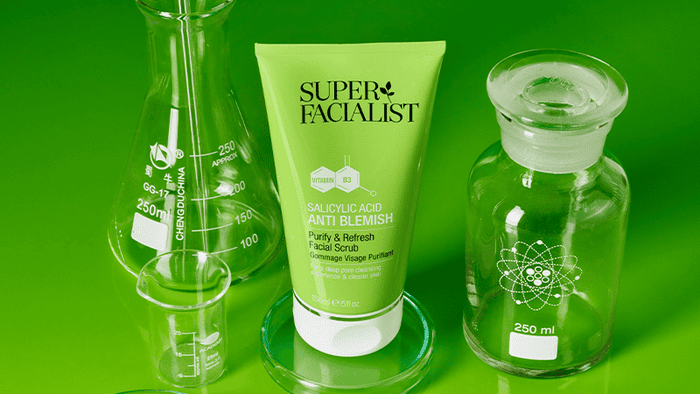 A scrub that contains an AHA (Alpha-Hydroxy Acid) or BHA (Beta-Hydroxy Acid) as the key ingredient is an ideal choice for oily skin and large pores.
If you've heard these buzzwords but you're still trying to get to grips with them – these terms refer to two categories of acids which are hugely beneficial for the skin and are commonly featured in targeted skincare collections.
Salicylic Acid, a Beta-Hydroxy Acid, is a great alternative to Glycolic Acid (part of the AHA family). The inclusion of this skin-resurfacing BHA in our Super Facialist Salicylic Acid Purify & Refresh Facial Scrub (along with the rest of our Anti Blemish collection) makes this scrub an ideal choice for oily skin and clogged pores, as the acid helps to open up pores and deep cleanse the skin, while the biodegradable microbeads get to work manually exfoliating dead skin cells.
We generally recommend that people with an oily skin type exfoliate 1-3 times a week. Any more than this and pores can become stripped of natural oils (essential to maintain skin health), often causing added irritation.
Can Retinol help?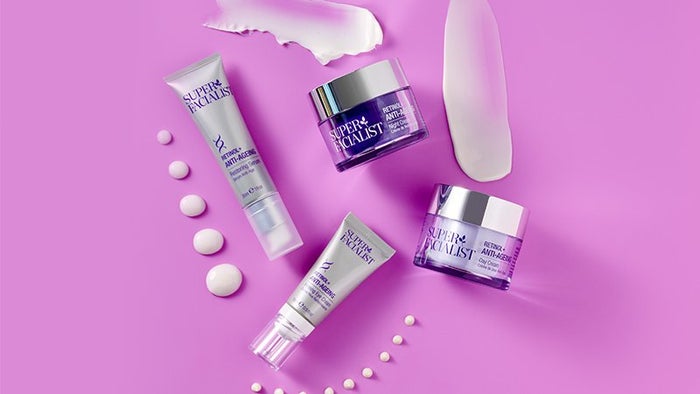 Image alt text: super facialist retinol anti-ageing range
Retinol was one of the most used buzzwords within the beauty industry in 2018 and continues to take the industry by storm. Renowned for its anti-aging benefits due to its resurfacing properties; this powerful ingredient deep cleans pores and should, when regularly applied, help to minimise their appearance. Our Super Facialist Anti-Ageing range  features Retinol as the key ingredient, along with a selection of other scientifically backed ingredients.
But do handle with care… while this ingredient is extremely beneficial for the skin, forcing a boosted cell turnover over a prolonged period can cause the skin to become thinner and result in irritation, as the cells at the surface become more vulnerable. We recommend using a low % initially, gradually building this up as the skin adjusts and builds a tolerance, in addition to treating Retinol as a treatment, applying for 6-8 weeks a few times a year for best results.
What's the best face mask for enlarged pores?
Specifically formulated to strip excess oils out of the skin – fast, a clay-based face mask is the ultimate choice for pesky pores. Our award-winning Super Facialist Salicylic Acid Pore Purifying Clay Mask combines oil-absorbing Sea Mud with Salicylic Acid and skin-enhancing Niacin to give skin the five-minute detox it deserves.
Pores no more.
Are there any useful tips I can follow?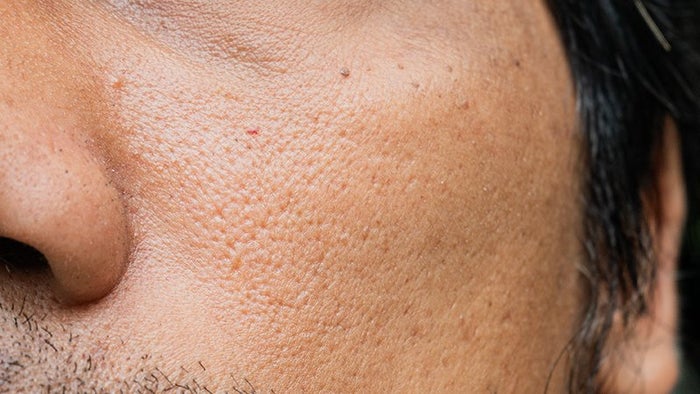 Avoid touching your face as much as possible, apart from when you're doing your skincare regime, to stop bacteria from getting into the pores.
Remember to apply SPF. As mentioned earlier, over sun exposure can damage the pores and cause them to become more prominent.
Try a cleansing oil. It might sound counter-intuitive if you're trying to remove excess oil, but it is a well-known fact that an oil cleanser can remove excess oils better than a water-based one. Then follow-up with a traditional cleanser (e.g. a gel, foam or creamy consistency) to remove any oil residue as part of a double-cleansing routine.
To reduce the appearance of enlarged pores, avoid applying any illuminating or shimmery makeup, as this can further enhance texture.
If you still notice enlarged pores after following these steps, try an oil-free moisturiser (our Super Facialist Vitamin C Sleep & Reveal Night Cream is a great all-rounder).
For more skincare advice, click here.